Casio LKS-250 Keyboard >>Lighting Keys >> Touch Response
Regular price
$399.00 NZD
Regular price
Sale price
$399.00 NZD
Unit price
per
Sale
Sold out
Making Music Fun.
Anytime, Anywhere.
The ultra-compact LK-S250 lets you make music wherever and whenever you want. Just pop in six AA batteries, grab the built-in carrying handle and take your inspiration to go. *Includes power supply and music rest.
The LK-S250 features 61 full-size touch responsive keys with Casio's Key Lighting System, making learning your favorite songs easier than ever. With 60 built-in songs and a voice-guided Step-Up Lesson system, youll be sounding great in no time.
Explore 400 great sounding Tones and 77 accompaniment Rhythms, plus 10 types of reverb to add depth.
The LK-S250 is easy and fun to play thanks to its LCD display and intuitive controls like the "My Setup" button, which quickly recalls your favorite sounds and settings.
Dance Music Mode lets you easily create and remix EDM tracks. Select a style, and use the keys to trigger drum loops, basslines, synth parts, effects, transitions and more.
Use the built-in speakers to share with friends, or plug in headphones for quiet play at any time. The 1/8" audio input lets you play along with music from your favorite device, and a 1/4" mic input lets you add your voice to the mix.
Connect to the free Chordana Play iOS/Android app and take your music further, learning how to play your favorite songs from downloaded MIDI files. The class-compliant USB port connects to any Mac/PC/iOS/Android device with no drivers needed.
Interface easy to use for everyone
The LK-S250 features a simple, intuitive interface, offering an organized layout with fewer buttons by using both a full dot LCD screen and dial. It is also equipped with a home button that lets users return to the original screen at any time, making for a superior multi-function keyboard with enhanced usability.
---
Sound no one would expect from such a compact keyboard
The use of 13 cm x 6 cm oval speakers with strengthened magnets delivers surprisingly great sound for such a compact instrument. An additional function that optimizes the equalizer in tandem with the volume provides balanced sound from the bass to the highs, even at low volumes.
---
Dance Music Mode and Voices expand ways to enjoy playing
The LK-S250 includes a mode that lets users put together drum, bass, and synthesizer phrases to easily enjoy dance music, as well as 12 types of Dance Music Voices that sound great with dance music. Just press along with the rhythm to add accents to ordinary playing and enjoy dance music.
---
Key Lighting System and Step Up Lesson
Help improve your playing with the Key Lighting System, which guides you by lighting the next key to play, and the Step Up Lesson function, which helps you practice in a four-step format.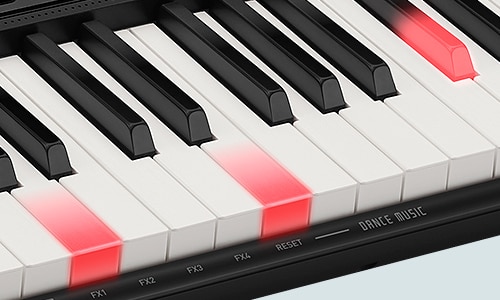 ---
Piano-Style Keys & Touch Response
The keys are built in a box shape like a piano. Touch Response delivers piano-like changes in volume and tone depending on the force used to play the keys.
---
My Setup Button
Register your favorite settings to easily recall tones and rhythms such as those learned in music class when you practice at home.
---
USB to host micro B for expandability
The LK-S250 comes with a USB to host micro B jack that allows you to enjoy making music easily, together with your smart device or computer. (Commercially available cable required.)
---
App Connectivity Makes Practicing Fun
Chordana Play app
Display 50 in-app demo songs or downloaded MIDI files on the Chordana Play piano roll or musical score screen to play your favorite songs anytime, anywhere. Play music without reading a musical score by striking keys in rhythm with the bars as they scroll down from the top of the screen. Track your score on the app's scoring feature to make practice fun and watch your playing improve.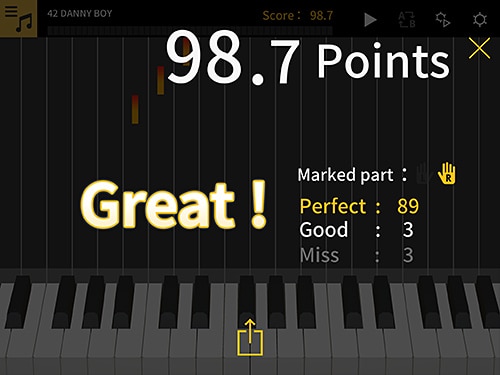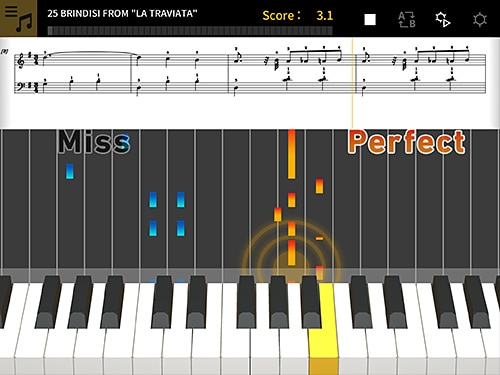 Share
Consider these popular add-ons for your portable keyboard...
View all